Infotec creates Elizabeth line passenger information displays
---
Infotec has designed and manufactured displays for the Elizabeth line including ones with new controller electronics that show different content from a single incoming interface.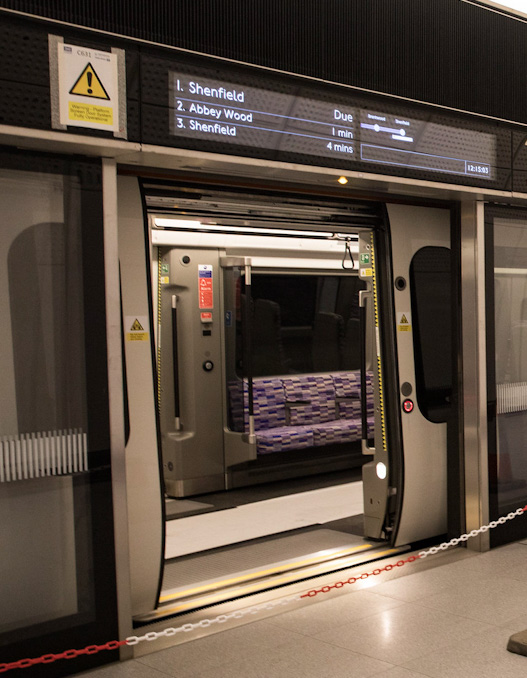 New innovative passenger information displays designed and manufactured by Infotec have been installed on the Elizabeth line.
Floor to ceiling platform screen doors have been installed at eight of the central sub-surface stations and include display screens that will show next train running information and maps to help passengers on the Elizabeth line.
Infotec was awarded the contract by Siemens Mobility Limited to design and manufacture these passenger information displays as well as other station display screens.
As part of the Crossrail programme, Siemens Mobility has responsibility for providing highly complex communication, control and signalling systems. In addition to the passenger information screens supplied by Infotec, this also includes a communications-based train control system (CBTC) for the central section of the Elizabeth line.
With over 600 displays supplied to date, new controller electronics have been designed and manufactured by Infotec to enable the two screens that make up each display to show different content from a single incoming interface.
The controller also monitors the system's health, working to ensure the displays operate correctly, 24 hours a day, seven days a week.
Research and development work by Infotec's in-house mechanical engineers to create the panels to house the displays has delivered some exciting innovations.
To hold the displays, a casing almost 2m in length was required and Infotec engineers designed the tooling needed, carefully selecting a supplier capable of handling the wide extrusion needed as part of the process.
Also developed was a bespoke spring clip to attach the glass to the screen door. After creating a few handmade prototypes using 3D printing technology Infotec's engineers achieved a final successful design.
Infotec looks forward to seeing all the displays it has provided for the stations in action when the Elizabeth line opens.
---
Millions of travellers are set to benefit from innovative passenger information display screens designed and manufactured by Infotec for the Elizabeth line.
---
Infotec has now been operating for 30 years, maintaining a dedication to manufacturing excellence.
---
New displays are helping with passenger management and enhancing the customer experience.
---
High contrast Eco-white LED displays ensure a minimum of ten years of operation, up to 30% less power consumption and improved contrast.
---
Infotec's striking RGB displays use our latest tsPlayer software for flexible and adaptive presentations.