#ChoosetoChallenge
---
On this, International Women's Day, four of our inspirational female team members say what they think would attract more women into engineering and manufacturing businesses.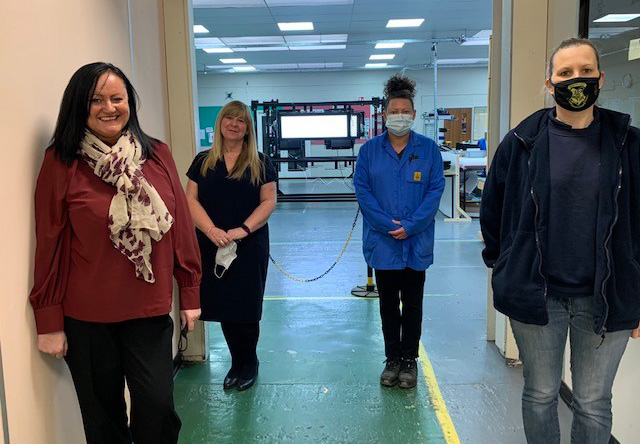 Today (Monday, March 8) is International Women's Day which this year has the theme #ChoosetoChallenge.
Infotec has a much higher percentage of women in its workforce than the average engineering/manufacturing company. There's a perception of the sector as a dirty, male-only environment and although (including at Infotec) this is rarely the case, it does go some way to explaining women's reluctance to choose it as a career option.
So, for our part today we're celebrating the achievements of some of the women who work for us. We hope it might encourage a few people - particularly girls and young women – to think again about a career in manufacturing, transport or engineering.
Please join us, share our story and #ChoosetoChallenge perceptions.
Here's what four of our female employees say (in Christian name alphabetical order!) about their jobs and what they think would help attract more women to follow in their footsteps.
Adele Bonam
Adele is our Financial Controller, a senior management position she's held for almost five years.
Her main duties are managing the finance and HR duties for Infotec. These include cash management, budgets and forecasting, payroll, managing costs to jobs and monitoring margins. She oversees sales and purchase ledger and makes sure our VAT/PAYE and other HMRC returns are all done correctly and on time. On the HR side she takes responsibility for contracts for new employees and onboarding them.
Asked what she enjoys about her job she says: "I love the fact that it is very varied. I get involved in and asked for help by all departments. I like doing the whole job and not just being part of a finance function of a larger organisation where you only concentrate on one area.
"I love the people I work with and enjoy being part of the Senior Management Team. I really enjoy the HR side and like that people come to me if they need help."
She's clear about why she thinks more women don't look for jobs in sectors such as manufacturing and engineering.
"I do think it is a male-dominated area and I feel you do have to prove yourself before you are taken seriously. I think the shift is changing and that women are more confident in applying for these roles. I am sure the industry would benefit from this diversity.
"I have worked in both male and female-dominated industries and each comes with its challenges. For me it is about the job that I do, not necessarily the industry. If the job appealed to me and I considered myself to be a good candidate I would not really think about the sector.
"I love my work and would always look to be doing what is needed to provide the support to the business I am in – whatever industry that may be. With experience comes the ability to change and adapt to the needs of the business."
Adele also has some great ideas about what would encourage more women to consider working in these sectors. "Perhaps more publications showing women in these industries. More women on the interview panel. Testimonials from women in male dominated industries."
Amanda Bradley
Amanda is Infotec's Sales & Projects Co-ordinator. She joined us in June 2015.
Amanda processes sales orders, taking them through the business right to despatch and invoicing. She's an important member of the customer support team and also a member of the sales team, providing smaller quotes as opposed to our larger bids.
"The great relationship with my colleagues and customers who are my priority. I find the job interesting, and no day is the same. There's always something that needs sorting urgently and I love solving these problems!" is what Amanda says she loves about her work.
Amanda isn't convinced that women don't consider working in traditionally male sectors. "I am not sure they don't, but then my background from the age of 16 was working within the coalmining industry. I would have still been in that industry which is definitely more male dominated (not many miners or colliery workers were female) if the last working colliery (Kellingley) had not closed so maybe I am not best placed to answer this!
She does, however, think there are things that would encourage more women into them. "I think groups like Women in Rail are useful as more and more women are involved in these sectors; it is definitely a challenge for us females in male dominated areas!"
Cheryl Richards
Cheryl says her job as Stores Manager which she's held for more than three years provides great variety.
She explains: "My main duties are receiving goods, kitting jobs for production, stock control, job creation and closing. I enjoy the variety of desk work, manual work and the organising!"
Cheryl thinks that concerns about equality contribute to why women don't look for jobs in sectors such as manufacturing and engineering.
"Equality is a big factor," she says. "Am I going to get treated and paid the same as a man? But also, I think you will always get more men in this sector because generally young girls don't have the same level of interest in engineering as boys."
Addressing these concerns, Cheryl says, would help bring more women in and also says the trend will change. "I think equality plays a big part again. but hopefully as we are seeing more and more women taking on these kinds of jobs it will become normal and in turn encourage more women to pursue careers in this field."
Deb Sutton
Having been at Infotec for 17 years, our PCB Supervisor Deb is the longest serving of our female staff.
Her role is to oversee the work in the PCB department including inspection and testing, conformal coating, and ensuring IPC-A-610 standards are met at each stage.
"The technology that is required to build our boards is changing and evolving all the time," Deb explains. "I find this challenging and interesting as the skill level needed increases as the boards become more complex and intricate.
"I enjoy working with my fellow colleagues on a day-to-day basis, sharing knowledge and training staff to meet the high standards needed to ensure quality is built into our products.
Deb believes that women do look for jobs in manufacturing but says that things could be done to attract more.
"To encourage more women to consider working in these sectors, more information needs to be available," she says.
Thanks to Adele, Amanda, Cheryl and Deb for sharing their thoughts and happy International Women's Day to everyone.
They are pictured clockwise from front left: Amanda, Adele, Deb, Cheryl.
---
Infotec has demonstrated its commitment to cyber security with customers and other interested parties.
---
Dozens of Infotec displays have been introduced at Swansea as part of the Transport for Wales (TfW) 'Station Improvement Vision'.
---
Infotec has decided to extend support of its Olympus controller until at least June 2023, which means it will reach its 20th birthday.
---
A review of support processes has seen small but useful changes evolve.
---
A new 6m full colour LED mainboard at Manchester Piccadilly is part of a turnkey project which also includes staff information displays and every aspect of the work from site surveys to installation taken care of by Infotec.