New ultra-slim poster displays
---
Designed to deliver Real-Time Information and interactive content direct to passengers.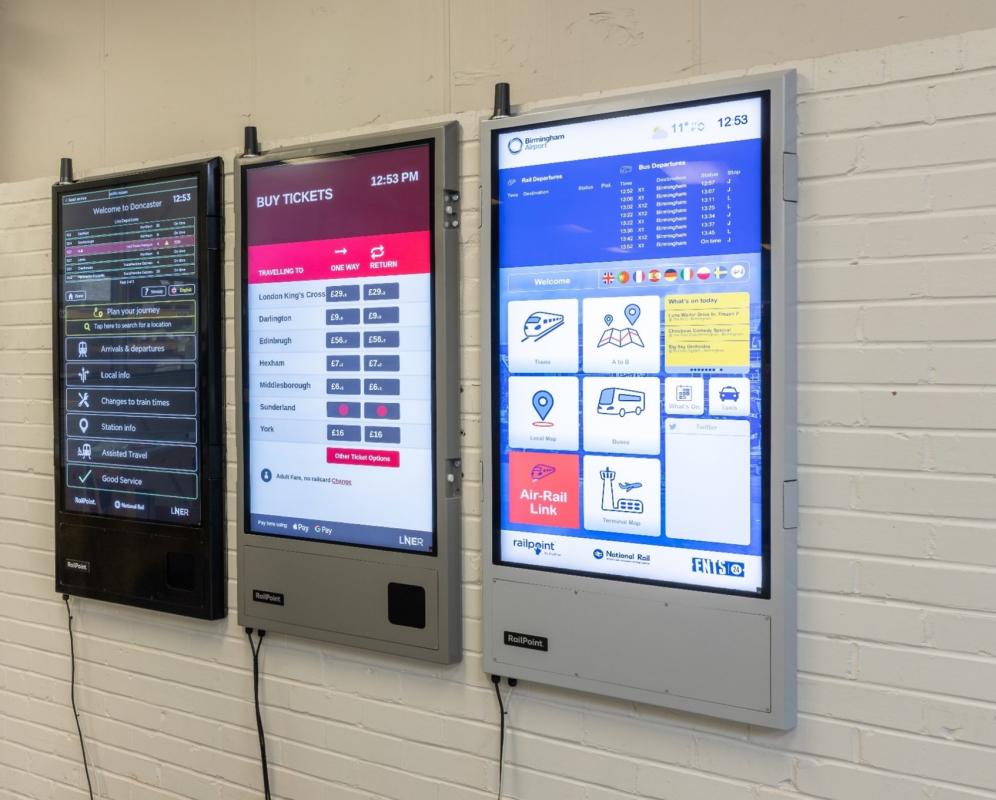 Infotec and Kadfire are proud to announce the launch of a new series of ultra-slim touch-enabled poster displays, the TP Series. Encompassing a host of features to make them intuitive, resilient, cost-effective and environmentally-friendly, they are perfect for the next generation of rail information.
Designed specifically to integrate seamlessly with Kadfire's RailPoint platform, these ultra-slim, 50mm deep TFT displays are ideal for all areas of the station. They are perfect for Real-Time Passenger Information (RTPI), rich and interactive multimedia content as well as important public safety information, all delivered instantaneously over the Internet.
The use of Infotec's high-performance controllers means the series produces professional, crisp and high-contrast images to ensure legibility in a wide variety of ambient lighting conditions and wide viewing angles.
Already in use by many of the UK's train operators in over 60 stations, the RailPoint platform incorporates: live journey planners, Google Maps, Darwin-fed travel news and engineering information, Rainbow Boards, video advertising and much more.
The powerful RailPoint CMS allows ultimate control over screen content from custom screensavers to complete emergency overrides, all packaged with an insightful analytics module that TOCs and station staff can use to understand which content is important to their passengers.
Although slim and light, the new displays are built to withstand the rail environment; with vandal-resistant features and industrial grade IP ingress protection-rated enclosures complete with toughened anti-glare front windows. All TP units are certified to the relevant EMC and rail safety standards, delivering compliance and peace of mind for the railway.
Sleep mode allows the displays to power down overnight, saving energy and adding to the environmentally-friendly aspects which also include reducing the need for paper tickets, timetables and maps. Sleep mode also adds value to the cost-effective nature of the TP Series by reducing energy required.
The new TP Series wall-mounted displays are offered as a direct replacement for standard poster boards and offer significantly better value to the customer with interactive features and ethernet/Wi-Fi/4G connectivity.
The built-in NFC module (optional) is designed specifically to work with RailPoint's new RailPay interface which brings smartphone-based, e-ticketing directly into stations for the first time.
Commenting, Clive Blane, MD of Kadfire and RailPoint, said: "COVID-19 has brought a number of pressures to our industry and we have listened. By working with Infotec collaboratively, we now have a cost-effective, best of breed, rail-ready digital poster replacement with fully featured digital content. This is a true industry first."
Tim Court, MD of Infotec agreed, adding: "Our two companies share the ethos of listening to customers, identifying solutions and staying at the forefront. As with all our other products, the TP Series is designed, manufactured and supported in the UK. We expect it to be very well received."
To meet individual needs, as with all Infotec and RailPoint products, bespoke variations of the displays can be created, and client branding can be incorporated.
---
Infotec has demonstrated its commitment to cyber security with customers and other interested parties.
---
Dozens of Infotec displays have been introduced at Swansea as part of the Transport for Wales (TfW) 'Station Improvement Vision'.
---
Infotec has decided to extend support of its Olympus controller until at least June 2023, which means it will reach its 20th birthday.
---
A review of support processes has seen small but useful changes evolve.
---
A new 6m full colour LED mainboard at Manchester Piccadilly is part of a turnkey project which also includes staff information displays and every aspect of the work from site surveys to installation taken care of by Infotec.