Brave action by Beth
---
Infotec SMT Machine Operator Beth has "braved the shave" to raise funds for charity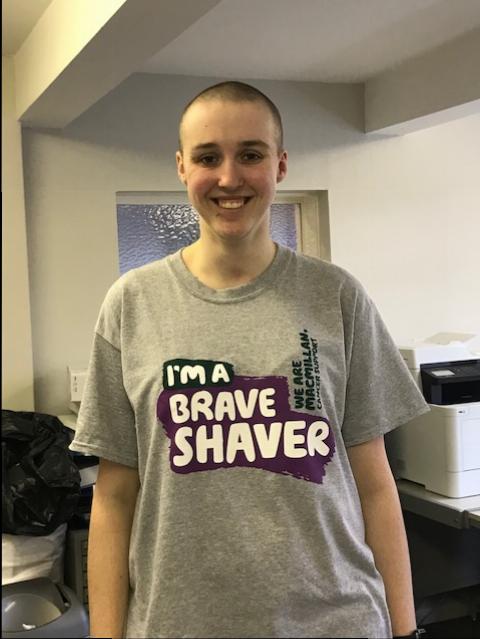 Infotec SMT Machine Operator Beth has been looking a bit light headed recently.
Despite the cold weather she took the brave decision to have her head shaved, raising funds for a deserving cause in the process.
By "Braving the Shave" Beth has raised more than £200 for MacMillan. She says that cancer runs in her family and several of her friends have also been affected by it and so she felt it was an appropriate charity for her to support.
Asked how she felt after losing her locks, she said: "It feels weird – definitely colder!"
Beth wasn't the only member of Infotec's staff playing a part in this – the person responsible for shaving her head was her partner and our SMT Machine Technician, Marc Wood.
Beth is no stranger to raising funds for charity – in the past she has taken part in two sky dives for Bloodwise.
Well done Beth and thank you to the members of Infotec staff who supported her brave action.
---
What many of those using Infotec's passenger CIS displays do not realise is that Infotec is one of the very few UK display companies that designs, manufactures, tests and distributes its own products. Significant investment has been made into making this possible and successful....
---
Stations including Grimsby, Huddersfield, Hull, Manchester Airport and Middlesbrough are all getting new white LED displays.
---
Infotec's in-house capabilities, including 3D CAD for steelwork, have been used to fulfill an order for GWR stations
---
The winner of our photography competition for May has been announced. Snap up a prize yourself with a photo of one of our displays
---
Our Bids & Marketing Manager James Lisney has completed a 23-mile trek in the Peak District and raised more than £600 for a disability charity.