Cutting edge TFTs for East Midlands Trains
---
Several new features and requirements have been incorporated by Infotec into its latest TFT displays for the overbridge at Derby station for East Midlands Trains.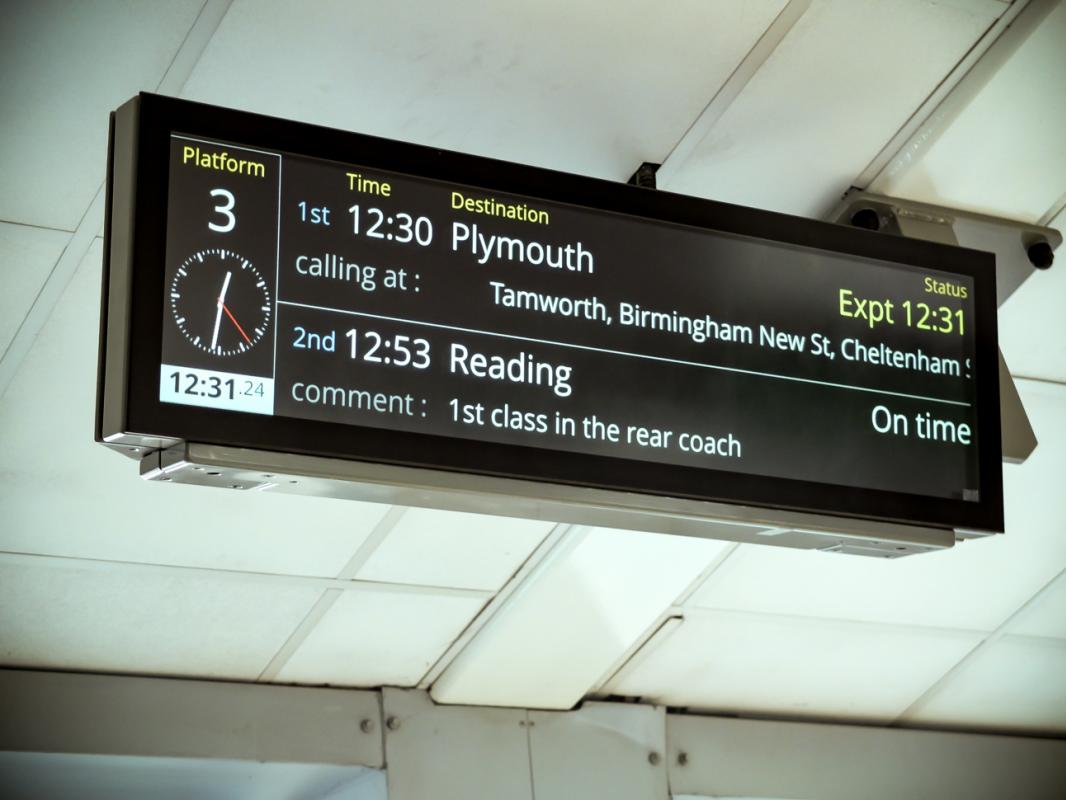 Hi-tech TR38L-H wide format TFT screens have been used to allow the units to be positioned closer to the platform entrances. Infotec has also produced new scripts for the displays that allow for a more modern appearance with platform indicators and analogue clocks provided in addition to standard three-line next train/destination details.
The displays also needed a new approach in terms of the brackets to support them, both as a result of the display width and the need to achieve 2.5m height clearance on a slopping ceiling.
To accommodate these factors, Senior Project Engineer Kevin Hancock has created a design that allows the display to rotate, thus allowing an infinite possibility of viewing angles.
More importantly this enables the operator to fine tune viewing angle position, which in turn helps determine where members of the public stand to view, keeping them away from the platform staircases and in a more suitable central location on the overbridge.
Passengers who do stand to view the displays will appreciate the smooth way the details all scroll.
Infotec's new displays for East Midlands trains help the client to manage passenger movement in the station and to provide a high-quality service to customers.
---
Passenger waiting time for destinations to appear on displays has been reduced by changes made to the scripting
---
A questionnaire to which professionals have responded in their dozens has highlighted key areas of interest when it comes to passenger information displays
---
Significant time and effort is invested in creating enclosures that provide ingress protection and installation teams need to pay similar attention to detail
---
Infotec provided its web-based back office system Javelin to allow operators at London Waterloo the ability to filter out details relating to particular platforms. Its ease of use and flexibility makes it the ideal way of keeping passengers fully informed about temporary changes.
---
Ultra-bright eco white LED displays designed and manufactured by Infotec have been installed at Ashton-under-Lyne