Infotec's in-house approach - how and why it works so well
---
What many of those using Infotec's passenger CIS displays do not realise is that Infotec is one of the very few UK display companies that designs, manufactures, tests and distributes its own products. Significant investment has been made into making this possible and successful....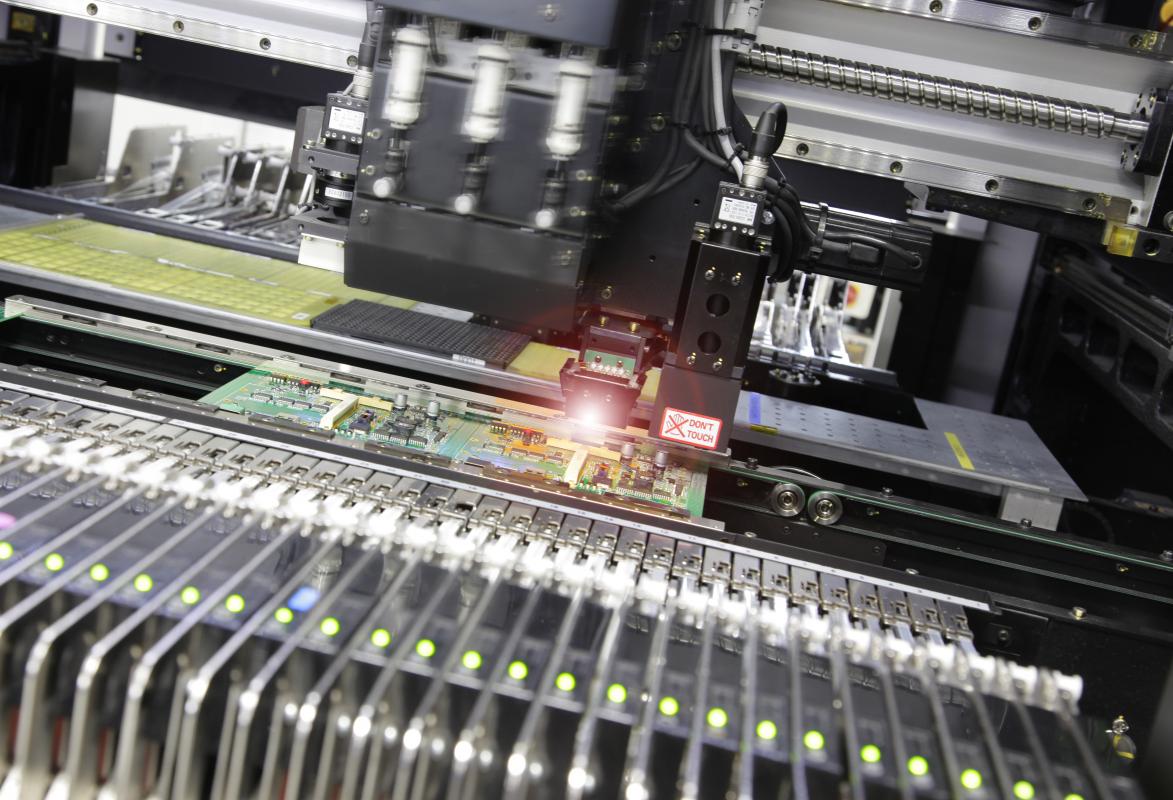 If you travel anywhere by train in the UK, you are almost certain to see passenger information displays designed and manufactured by Infotec. You'll also find them on light and underground rail systems, both at home and abroad, increasingly on-vehicle, in bus shelters and interchanges as well as in retail and restaurant premises in and around transport hubs.
What most of those using these displays will not realise is that Infotec is one of the very few UK display companies that designs, manufactures, tests and distributes its own products.
At one time Infotec had many of its smaller high volume, high labour products built in the Far East, but took the decision four or five years ago to bring all of its manufacturing back in-house.
The aim was to perfect manufacturing techniques and have complete control over obsolescence, quality and batch sizing, enabling it to be as flexible and responsive as possible yet still keep prices down.
The decision has led to significant investment being made into new machinery, automation, additional technology and into training of staff. Infotec's extensive in-house capabilities now include:
Manufacturing
A flexible placement platform installed in early 2017 is used to manufacture our latest surface mount technology LED components.
Built by Fuji, the equipment is four times faster than the one previously used and so has dramatically increased capacity and speed work on the assembly line.
The original machine is still used, but primarily for other components.
The modular aspect of the Fuji unit is considered key in providing Infotec with the option to expand output to meet future demands.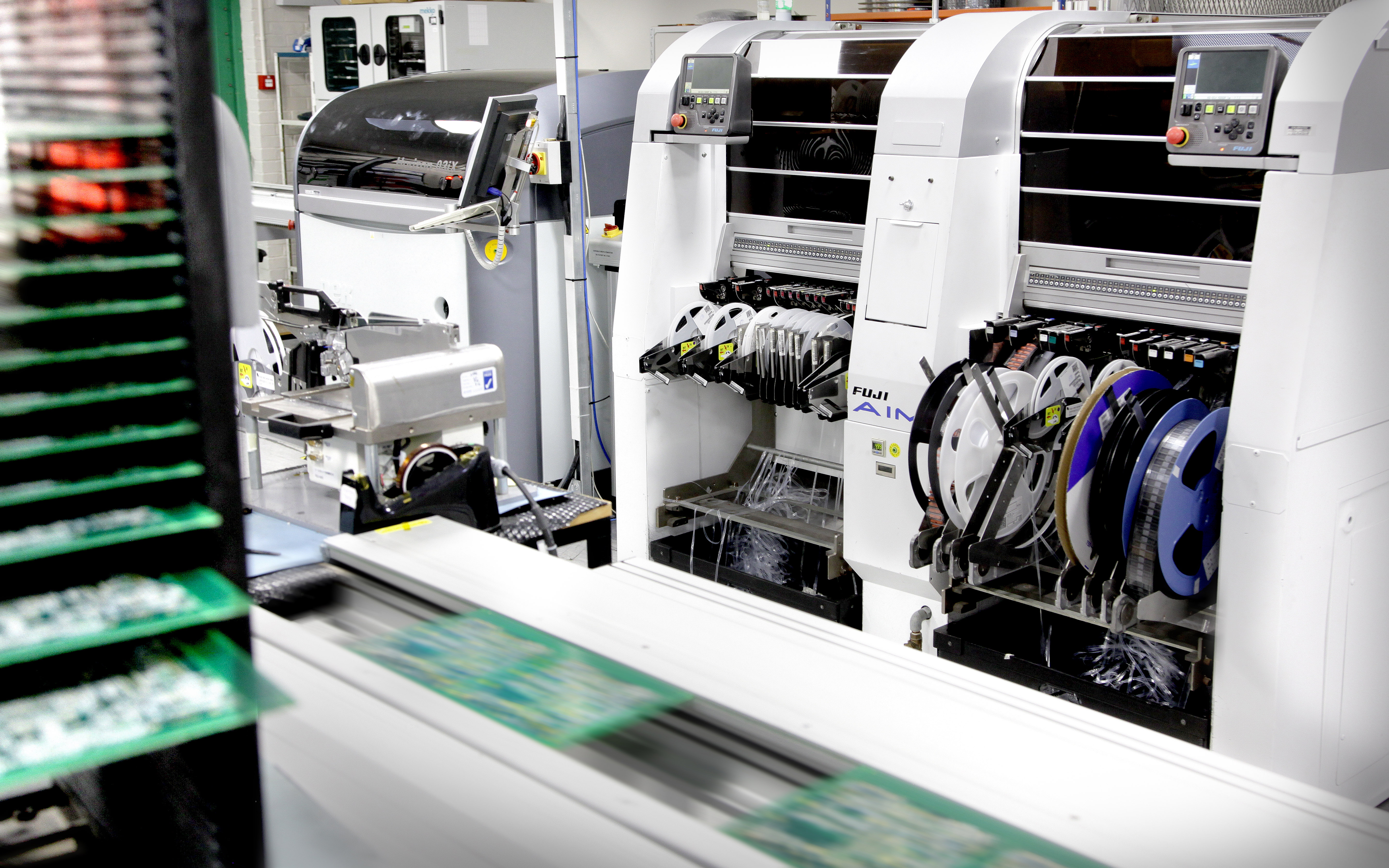 EMC testing
Installation of a Fully Anechoic Chamber (FAC), allows Infotec to test its own equipment to internationally accepted noise criteria.
An FAC is a metallic enclosure lined with ferrite tiles and external radio frequency (RF) absorbers. It is designed to test for both emitted electromagnetic interference or "noise" and the ability of equipment to ignore such interference from an external source.
The lining, along with the metallic 'box', offers protection from RF noise and prevents Infotec's susceptibility test equipment from affecting local neighbours.
This can therefore be used to both listen to the noise that Infotec equipment generates without any external interference from sources such as TV, mobile phone and radio and also prevents transmission of unwanted noise during susceptibility testing.
The science behind the tests is complex, as is the calibration of the chamber to ensure it meets the set standards. What is important is the fact that the chamber is designed to simulate 'free space' which has an impedance of 377 Ohms.
The word chamber may conjure up images of a small space, but the one installed at Infotec's headquarters (pictured below) in Ashby-de-la-Zouch, Leicestershire is 8m x 4.5m x 3.5m high.
Having the chamber allows Infotec to test sub-assemblies prior to them being incorporated into final equipment, allows samples from production batches to be checked for compliance and is ideal for type testing of new designs.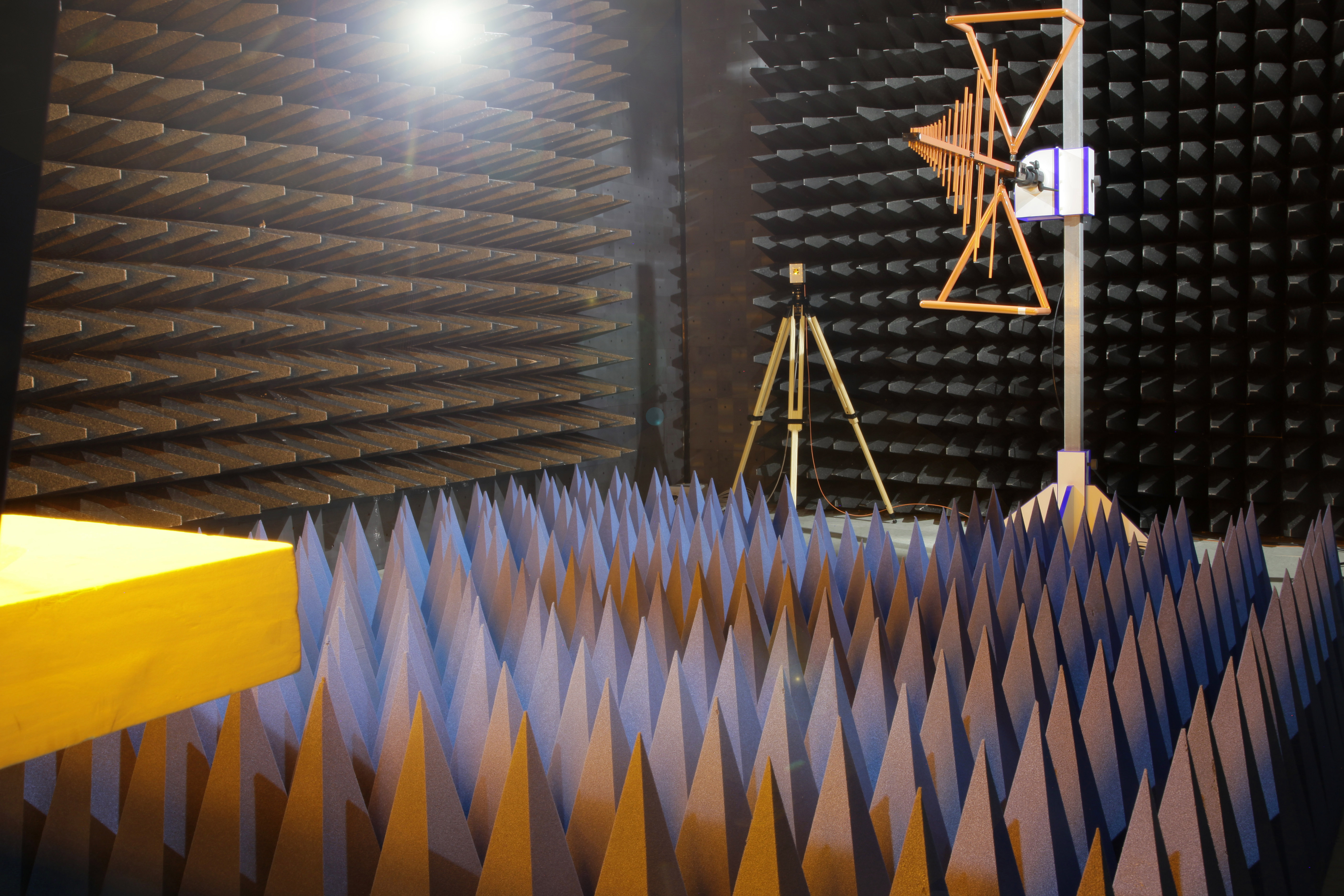 Conformal coating
Conformal coating improves product reliability when deployed in harsh environments by protecting the assembled boards against moisture ingress and vibration.
Investment in a conformal coating booth and containment area with Local Exhaust Ventilation (LEV) equipment and training means Infotec can produce coated printed circuit boards (PCBs) for use in its range of on-vehicle displays.
The conformal coating is acrylic based and has an ultra violet tracer in it, which fluoresces under the UV lighting in the room to aid application, visual inspection and quality control.
Members of Infotec's staff are trained to apply the coating to Infotec's high quality standards. One of the first orders for which it was used was by Trak Com Wireless Inc. for on-vehicle displays to be used on the light rail system serving JFK Airport in New York, USA.
3D design
The very latest 3D CAD software is used by Infotec to help installers as well as clients.
The system allows engineers to generate three-dimensional images as pdf documents which clients are then able to rotate and view the product from any angle, without the need for any specialist software themselves.
This provides them with a life-like view of exactly what the finished product will look like.
Infotec engineers using the programme can view cross-sections through products and remove and/or add individual components to view real-life images of the impact the changes would make.
One of the first contracts for which the 3D CAD programme was used was the replacement of an LED CIS display at St Pancras International which needed the support structure to be remodelled to carry four displays rather than the original one.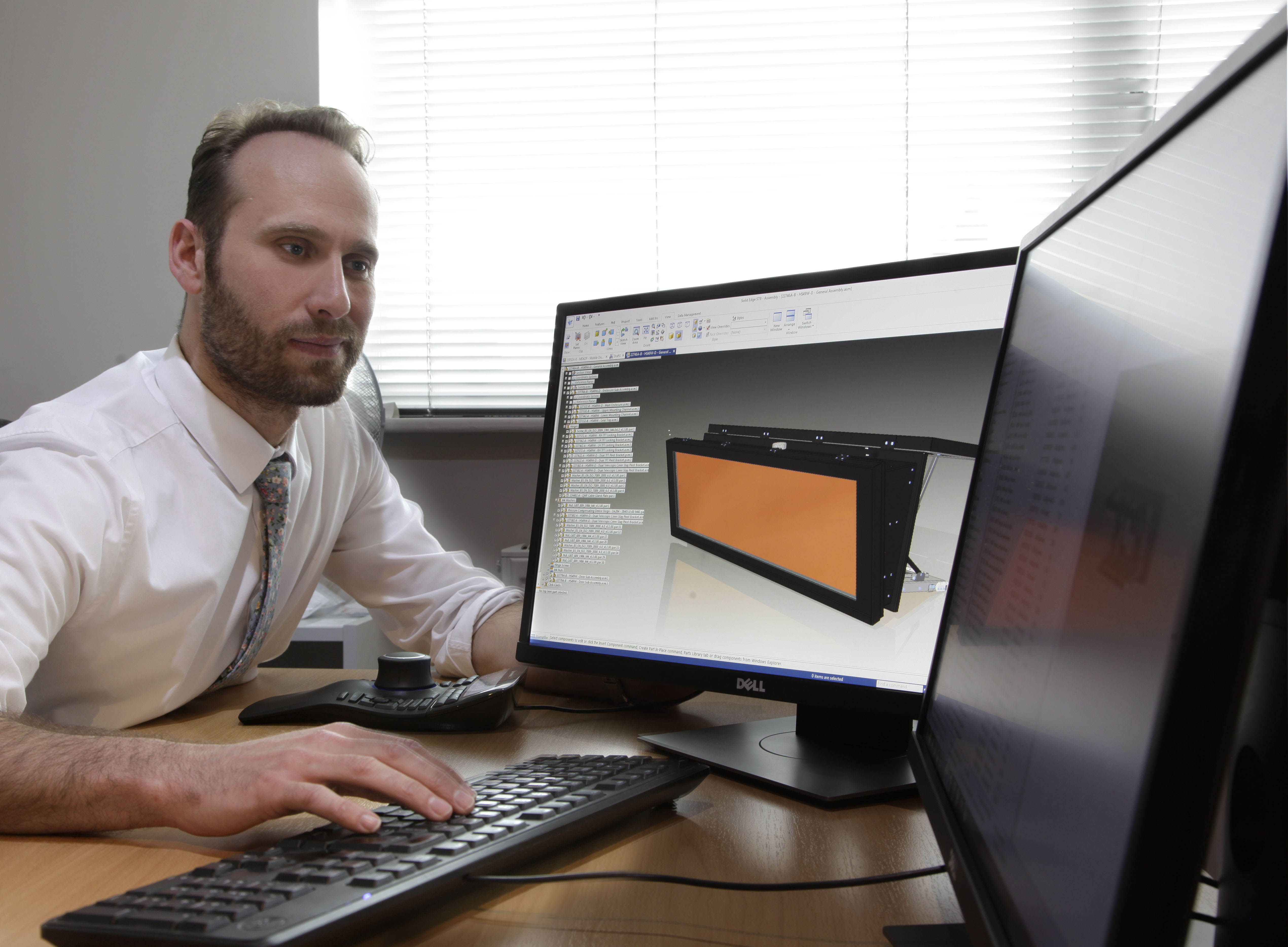 Brackets
An important aspect of Infotec's work is being able to supply appropriate support structures for its display products.
The vast majority of displays produced by Infotec use support structures it has designed, strength calculated and had manufactured.
The range includes gallows posts, girder mounted canopy brackets, interface structures to existing CRT brackets, wall cantilever brackets and wall fixing brackets.
It is often the case, however, that standard designs don't fit the bill and, in such cases, Infotec offers a full site survey, design, drawing and strength calculation service for the creation of bespoke interface brackets.
The principal design is drawn by the company draughtsman and is then calculated and costed for client approval.
Multi-skilled staff
Explaining the advantages of having everything in-house, Tim Court, Managing Director of Infotec, says: "What this allows is for us to better manage our volumes so that we can do very short, as well as medium and high volume runs, and because we spent so much time in perfecting our manufacturing techniques we can do all this at a competitive price.
"Our ability to carry out the complete manufacturing cycle, from electronics to the finished article, allows us to effectively control product obsolescence over the lifetime of the display, which can be between ten and 15 years.
"The Infotec team is made up of many multi-disciplined people, a quality that is needed in a business which handles many different processes, and this has only been made possible by investing in our workforce.
"The size of the business provides us with a degree of flexibility and agility that a larger player in this industry would not have. It is this that allows us to freely produce both bespoke and high-volume products, systems and equipment at a cost that helps to make us the go-to provider of passenger information display systems for our customers."
Alongside the in-house design and manufacturing capabilities, quality and service are of equal importance to Infotec's success. We will look at how these are delivered and ensured in our next feature.
---
A unique Infotec system gives South Western Railway (SWR) station staff more detailed train movement information.
---
Travellers going to the Isle of Wight can now find real-time information about rail, bus, hoverbus and flights in single displays.
---
Infotec has been assessed by Safety Schemes in Procurement to help reassure buyers of its high standards.
---
Infotec's gallery has been updated to provide images and basic details about the latest customer information displays.
---
Two members of the Infotec team have successfully completed a workplace first aid course.