Displays and steelwork for GWR stations
---
Infotec's in-house capabilities, including 3D CAD for steelwork, have been used to fulfill an order for GWR stations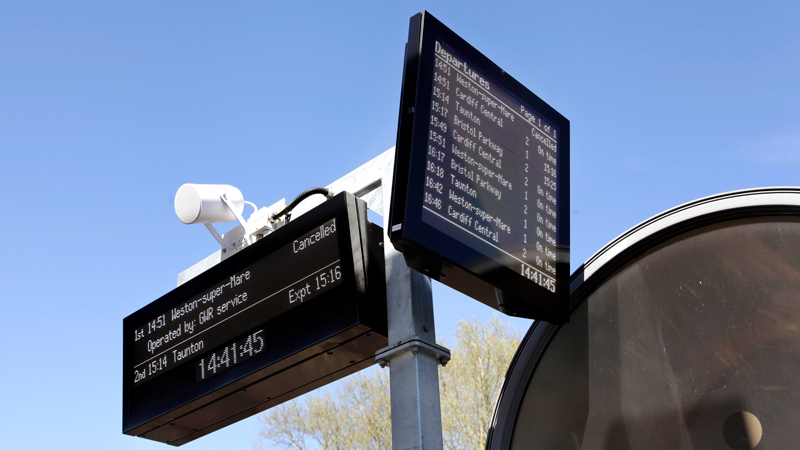 Increasingly popular white LED displays have been installed at a dozen Great Western Railway (GWR) stations in Central and South-Western England.
Steelwork to support the passenger information displays was also included in the order, awarded to Infotec by Telent.
Dorking, Exeter St David's, Falmouth Town, Penryn, Torre and Worle are among GWR locations to have the full matrix displays installed. The Infotec range has been praised by the travelling public for its clarity and modern appearance.
In addition to providing details of next trains, the on-platform FM42-W displays also show train formation information, indicating where buffet car, cycle loading, disabled access and first class facilities are to be found on each approaching train.
Infotec has used its 3D CAD software to design support steelwork to carry the displays, which includes a bespoke post specially designed for mounting an FM42W-D platform display as well as an FM28 summary of departures display on the same structure. Standard wall-mounted and gallows post steelwork have also been provided.
The CAD system allows engineers to generate three-dimensional images as pdf documents which provides clients with a life-like view of exactly what the finished product will look like.
The vast majority of the new displays are now operational, helping regular commuters and tourists using the stations concerned stay fully informed.
---
Last orders for one of the power supply units used in some LED displays has been extended to the end of January 2019.
---
Stations including Portsmouth Harbour and Walton-on-Thames are to benefit from white LED displays which offer user, environmental and economic advantages over their yellow counterparts.
---
Travellers in London are starting to benefit from deployment of Infotec's new mobile displays.
---
Two more talented travellers have won themselves £100 vouchers by taking photos of Infotec displays in action.
---
Following the success of Infotec in providing on-vehicle passenger information display (PID) solutions for the Vancouver Metro, a third order has been placed.