C2C passenger waiting reduced
---
Passenger waiting time for destinations to appear on displays has been reduced by changes made to the scripting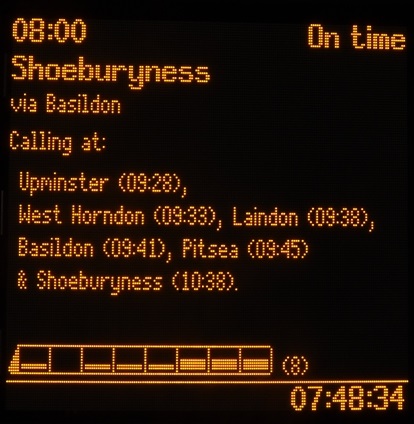 Changes to passenger information display scripting have been made by Infotec to help C2C with passenger management.
Dozens of Infotec's latest full matrix displays, together with standard as well as bespoke steelwork structures to support them, were installed on concourses, platforms, at station entrances and in waiting rooms on the c2c network in the autumn of last year.
Next train indicators, summary displays, single and double-sided wide aspect displays with clock and small two-line displays were all included in the order, placed with Infotec by Telent.
Stations to have benefitted from the new equipment include Barking, East Tilbury, Southend, Thorpe Bay, Upminster and West Ham.
A FM28L display situated at the archway of West Ham station had originally been designed to display five calling points at a time in a list, but the high number of calling points meant that passengers would need to dwell at the foot of the stairs waiting for the page with their destination to scroll around.
To address this, Infotec has changed the list of single destination per line to comma delimited calling points, which means each line can include several destinations.
A second revision has seen the loading level information on all FM28L and FM42W displays enhanced to be even more detailed, with percentages updating in fewer steps.
A final alteration has seen creation of a TFT summary board with calling points for use as a shelter display.
The changes made demonstrate the flexibility of Infotec's displays as well as the company's ability to meet exact requirements, all improving the customer experience on stations.
---
New displays at the remodelled Derby station are keeping passengers fully informed and on the move.
---
A new role has been created as the first key part of Infotec's medium and long-term strategies to help the company expand by providing new and exciting products, both in its traditional and in new markets and sectors.
---
It's 20 years since our Bids and Key Accounts Manager joined the company - and things have changed considerably over that time.
---
The latest staff social saw representatives from many departments challenge each other on the golf course.
---
Infotec's latest display is a simple to operate mobile unit that can be used to display everything from train running information to the latest news and social media content.