New designs for a new station
---
New F-series displays and support steelwork for Ilkeston.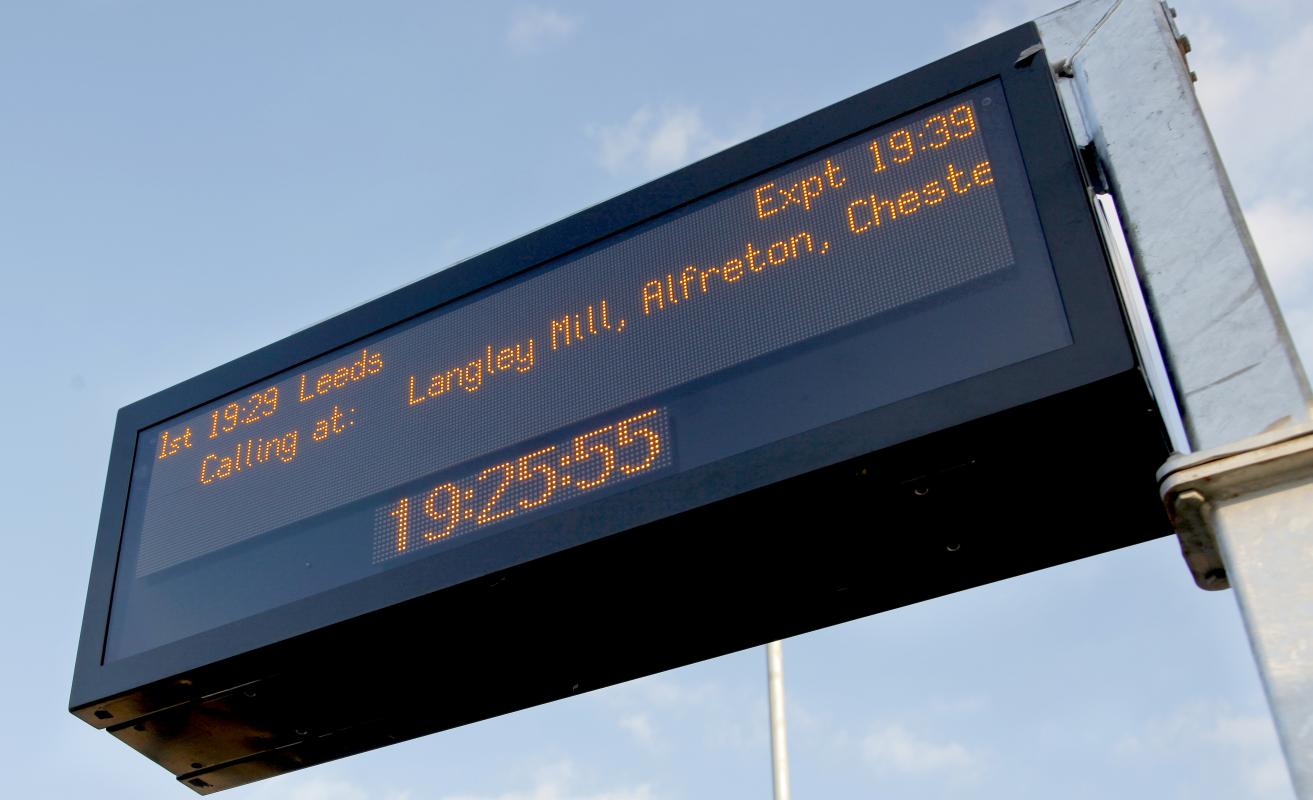 Guests and customers were informed by passenger information displays designed and manufactured by Infotec that the first train to arrive at Ilkeston in more than 50 years was on its ways when the new station opened in April.
The £10m station, built by Network Rail in a project led by Derbyshire County Council, stands off Millership Way and Coronation Road on the site of original Ilkeston Junction and Cossall Station which closed on 2 January 1967.
It means the town is no longer the largest in Britain on a passenger railway line without a station. It is also among the growing number of stations whose users benefit from Infotec's latest full matrix displays.
Two single-sided FM40L and two double-sided FM42W-D LED displays have been installed at the station to keep passengers fully informed. These advanced displays offer wider viewing angles, improved contrast ratios and the ability to show enhanced graphical notices in full-screen format.
Steelwork to support the displays has also been designed and manufactured by Infotec for the order which was placed by Railway Electrical Services Ltd.
Trains calling at the station are being operated by East Midlands Trains – which also manages the station – and Northern Rail.
Passengers can catch direct hourly trains running north to Chesterfield, Sheffield and Leeds and south to Nottingham. Some trains will also go to Liverpool and Norwich.
Around 160,000 people are expected to use the station in its first year.
Clapham, Didcot, Gatwick and Hadley Wood are among other stations to now have new F-series displays by Infotec installed.
---
Passenger waiting time for destinations to appear on displays has been reduced by changes made to the scripting
---
A questionnaire to which professionals have responded in their dozens has highlighted key areas of interest when it comes to passenger information displays
---
Significant time and effort is invested in creating enclosures that provide ingress protection and installation teams need to pay similar attention to detail
---
Infotec provided its web-based back office system Javelin to allow operators at London Waterloo the ability to filter out details relating to particular platforms. Its ease of use and flexibility makes it the ideal way of keeping passengers fully informed about temporary changes.
---
Ultra-bright eco white LED displays designed and manufactured by Infotec have been installed at Ashton-under-Lyne