Infotec's controller beats cyber-attacks
---
Rail passengers should see no disruption on station information screens manufactured by Infotec as a result of cyber-attacks.
Infotec does NOT use PC or Windows to drive its displays.
It has invested heavily in its very latest Tetrus controller to drive a modernised display range. The dedicated controller has taken five years to develop and is at the heart of almost everything Infotec produces.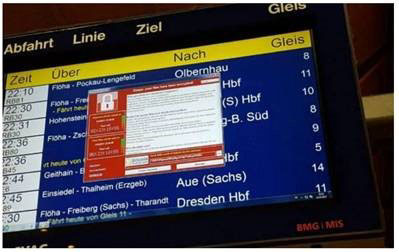 Infotec has always seen passenger information displays as an embedded device and as such the use of desktop technologies, PCs and the Windows operating system should be avoided. A clear example of this can be seen from this week's cyber-attack which not only caused disruption to desktop PCs but also to devices utilising these PC and Windows technologies.
The implications of using a system that relies on PCs has been made obvious in Germany over the weekend, where the country's DB (Deutsche Bahn) displays all with PCs have been seriously affected. The rail network is said to have been thrown into chaos with the "ransomware" message demanding money appearing on screens at train stations.
Infotec's Tetrus controller technology utilises bespoke embedded solutions making them more resilient and robust in harsh station environments. We can guarantee that no Infotec Tetrus controllers, or previous Olympus displays will be affected by this or future Windows cyber-attacks.
Unlike other approaches, Tetrus needs no keyboard, no mouse, no upgrades, no security packages, no additional graphics cards, no additional memory, no fans and no licences – it is built for the job. Most important, when cyber-attacks occur anywhere in the world, it does not use third party software.
---
Two more talented travellers have won themselves £100 vouchers by taking photos of Infotec displays in action.
---
Following the success of Infotec in providing on-vehicle passenger information display (PID) solutions for the Vancouver Metro, a third order has been placed.
---
New displays at the remodelled Derby station are keeping passengers fully informed and on the move.
---
A new role has been created as the first key part of Infotec's medium and long-term strategies to help the company expand by providing new and exciting products, both in its traditional and in new markets and sectors.
---
It's 20 years since our Bids and Key Accounts Manager joined the company - and things have changed considerably over that time.