White LEDs for Wessex
---
Stations including Portsmouth Harbour and Walton-on-Thames are to benefit from white LED displays which offer user, environmental and economic advantages over their yellow counterparts.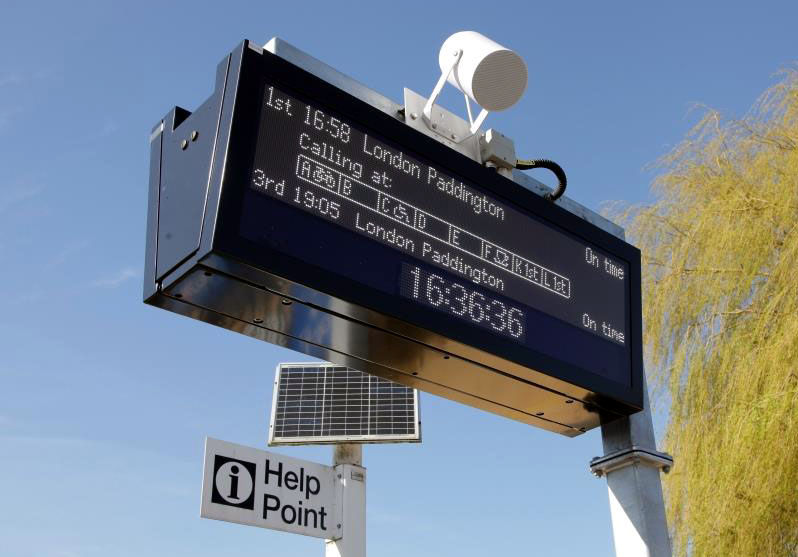 The first of more than 120 passenger information displays (PIDs) designed and manufactured by Infotec for railway stations on the Wessex route have now been delivered.
The order, placed by Telent, will see many stations have the very latest ECO white high definition LED units installed, with wide aspect with clock single and double-sided and portrait styles included.
White LED displays are brighter and higher in contrast than their yellow counterparts and can be read very easily, especially in sunlight.
In addition to clarity, the advantages of white LEDs include their long-term reliability - the surface mount technology used is much better than the former through-hole technology - and they have a 30% lower power requirement yellow LEDs, making environmental and economic sense.
The new displays, which also include some high-performance TFT displays which produce crisp, clear images with smooth transitions and media presentation, are part of Station Information and Security System (SISS) improvements.
The Wessex route is one of the busiest in the UK, providing a vital economic artery into central London from the south coast, with 230 million passenger journeys each year generating £1bn in revenue.
Stations to benefit from the new Infotec displays include Andover, Farnborough, Portsmouth Harbour, Kingston, Walton-on-Thames and Wokingham.
In addition to the displays, Infotec is designing and manufacturing support steelwork for the units, providing the complete package.
Training for Wessex staff on making the best possible use of the displays is also to be provided by Infotec at its headquarters in Leicestershire.
James Lisney, Bids and Key Accounts Manager for Infotec, said: "The feedback we are getting about our white LEDs is very positive; the traveling public love them. They will provide the Wessex stations concerned with attractive, user-friendly display equipment which is beneficial to everyone."
---
Visitors to our stand at Railtex 2019 had the chance to see the latest systems available, developed by Infotec to provide solutions to passenger management and customer satisfaction needs.
---
A unique Infotec system gives South Western Railway (SWR) station staff more detailed train movement information.
---
Travellers going to the Isle of Wight can now find real-time information about rail, bus, hoverbus and flights in single displays.
---
Infotec has been assessed by Safety Schemes in Procurement to help reassure buyers of its high standards.
---
Infotec's gallery has been updated to provide images and basic details about the latest customer information displays.