On-vehicle route map displays for Canada
---
Following the success of Infotec in providing on-vehicle passenger information display (PID) solutions for the Vancouver Metro, a third order has been placed.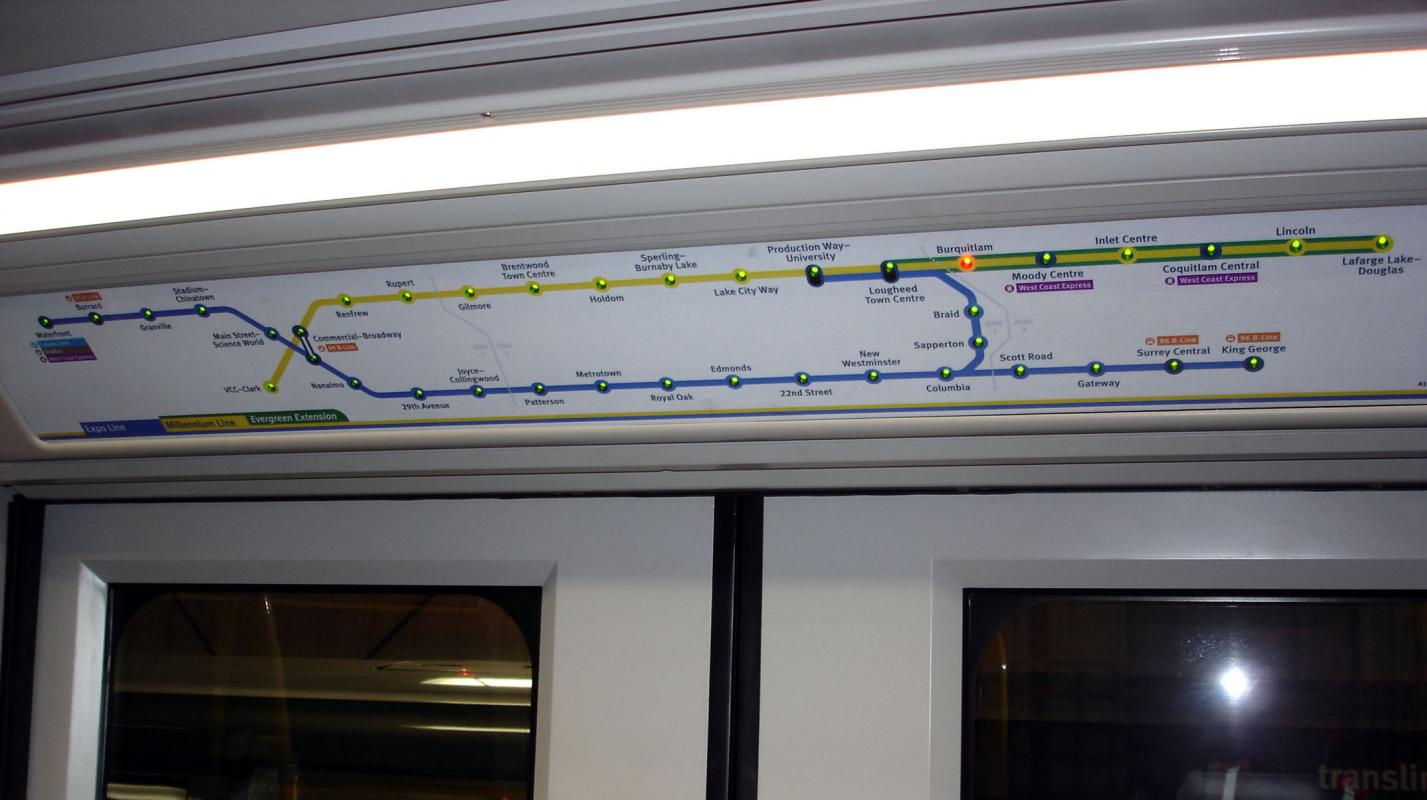 Infotec is to supply a third set of on-vehicle displays for the Vancouver Metro in Canada.
The latest order, placed by Trak Com Wireless Inc., is for more than 80 of Infotec's P1506 LED route maps.
The P1506 is designed specifically for use internally as a simple 'Route Map' indicator. The display uses a printed graphical representation of the network and red and green LEDs to show where the vehicle is at any given time. The user can define which colour represents stations visited and which represents stations to follow.
On-vehicle passenger information displays (PIDs) designed and manufactured by Infotec were first ordered for the Vancouver Metro in 2016, with a second order seeing scores more delivered in 2017.
Three types of LED displays were engineered to fulfil the first two orders for the Canadian light railway system - P1503 and P1504 full matrix LEDs and P1506 LED route maps.
The P1503 on-vehicle LED display is mounted on the outside of the trams for external viewing. The LED unit includes an appropriate DC power unit and control processor running standard TDP direct control protocol. The unit provides Ethernet or RS485 connections as standard.
The P1504 on-vehicle LED display is a smaller unit, designed for use internally. As with the P1503, it includes an appropriate DC power unit and control processor running standard TDP interface.
Type-tested to meet EN50155:2007
All three types of display can be adapted to meet specific design requirements, and each has been type-tested to meet EN50155:2007.
The on-vehicle displays have met the specifications for shock, vibration, extreme temperatures, humidity and vandalism and are the ideal choice when it comes to meeting the challenges of the specialist underground market.
Infotec's Managing Director Tim Court says: "To win a third successive order is testament to the quality of our products and the customer service we provide, both at home and abroad.
"Our experience of providing bespoke technical solutions to meet our customers' needs gives us a head start in the on-vehicle sector. Infotec's ability to integrate with and understand the needs of suppliers and software integrators is what makes us the right choice for on-vehicle PID solutions."
---
Infotec has been assessed by Safety Schemes in Procurement to help reassure buyers of its high standards.
---
Infotec's gallery has been updated to provide images and basic details about the latest customer information displays.
---
Two members of the Infotec team have successfully completed a workplace first aid course.
---
Last orders for one of the power supply units used in some LED displays has been extended to the end of January 2019.
---
Stations including Portsmouth Harbour and Walton-on-Thames are to benefit from white LED displays which offer user, environmental and economic advantages over their yellow counterparts.